Brochures & Magazines
Read our latest World Traveler Magazine or
click here
for ALL our digital publications.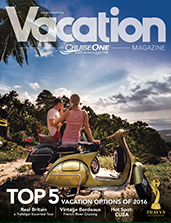 Ask your Vacation Specialist for our FREE Brochure
From Your
Vacation Specialist

Did you know traveling creates life transforming experiences? Exciting river and ocean sailing itineraries, peaceful but exciting world wide land resorts....travel vacations offer all of this! Your memorable vacation awaits you on a luxury river or ocean cruise, or exclusive land resort.
About Me... Private Client LuxuryTravel Advisor
Conde Nast Traveler Institute Certified Cruise Specialist
Meet Associate Sonja Seery
Meet Associate Andrew Domarasky III Colonel USMC Ret.